OSHA Issues COVID-19 Workplace Vaccine-or-Testing Policy
November 4, 2021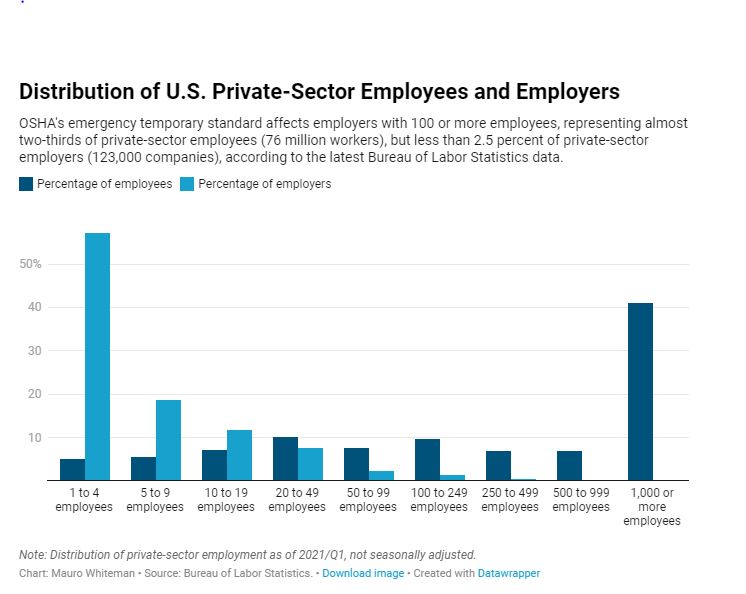 The Occupational Safety and Health Administration (OSHA) has released its highly anticipated emergency temporary standard, which will be published in The Federal Register on Nov. 5. The rule will require businesses with at least 100 employees company-wide to ensure their employees get vaccinated against the coronavirus or wear a mask and test for COVID-19 on at least a weekly basis.
"Employers have two months now to figure out what path they want to choose: mandate the vaccine for all or allow for testing," noted Daniel A. Schwartz, an attorney with Shipman & Goodwin in Hartford, Conn. Employers will have to weigh the pros and cons of each choice for their particular business, he said.
The Details
The White House announced the following details about the ETS:
All unvaccinated workers must begin wearing masks by Dec. 5 and provide a negative COVID-19 test on a weekly basis beginning Jan. 4.
Employers must pay employees for the time it takes to get vaccinated and recover from any side effects that prevent them from working.
Companies are not required to pay for or provide the tests unless they are otherwise required to by state or local laws or in labor union contracts.
"Not surprisingly, the ETS requires employers to establish written policies to implement the mandate-or-test requirements," said Jackie Gessner, an attorney with Barnes & Thornburg in Indianapolis. She noted that OSHA built in some limited coverage exceptions. For example, remote and outdoor workers are not required to comply.
Notably, the deadline for federal contractors to comply with vaccination requirements under Executive Order 14042 has been pushed back to Jan. 4 to align with OSHA's ETS. But the White House explained that OSHA's ETS will not be applied to workplaces that are covered by the federal contractor requirement or a new vaccination directive from the Centers for Medicare & Medicaid Services for health care workers at facilities that participate in Medicare and Medicaid programs. Therefore, "employers will not have to track multiple vaccination requirements for the same employees," the White House said.
OSHA's ETS is expected to cover about two-thirds of private-sector employees (more than 76 million workers), but less than 2.5 percent of private-sector employers (about 123,000 companies), according to the latest Bureau of Labor Statistics data.
The rule will also cover state and local public-sector workers, including teachers and school staff, in the 26 states and two territories that operate their own OSHA state plan. OSHA allows states to develop their own workplace health and safety plans, so long as those plans are "at least as effective" as the federal program. These states will have 30 days from the effective date to adopt an ETS.
Reactions to OSHA's Rule
"COVID-19 has had a devastating impact on workers, and we continue to see dangerous levels of cases," said U.S. Labor Secretary Marty Walsh. "We must take action to implement this emergency temporary standard to contain the virus and protect people in the workplace against the grave danger of COVID-19. Many businesses understand the benefits of having their workers vaccinated against COVID-19, and we expect many will be pleased to see this OSHA rule go into effect."
Some workers, however, may still be hesitant to get vaccinated. "That's why leading with empathy will be key to creating the environment of trust and mutual understanding we need to successfully navigate this new workplace challenge," said Sydney Heimbrock, chief industry advisory for government for Qualtrics, an experience management platform based in Provo, Utah.
Employers in some industries are concerned about the impact of the vaccine-or-testing rule in a tight labor market. "Over the past 19 months, retailers across the country have taken extraordinary measures to keep their employees, customers and communities safe during the COVID-19 pandemic," said David French, the National Retail Federation's senior vice president for government relations. "It is critical that the rule not cause unnecessary disruption to the economy, exacerbate the pre-existing workforce shortage or saddle retailers, who are already taking considerable steps to keep their employees and customers safe, with needless additional requirements and regulatory burdens."
Lawsuits Expected
Legal challenges to the ETS are expected, particularly from attorneys general in states that oppose vaccination requirements.
In Texas, Gov. Greg Abbott issued an executive order banning employers (and other entities) from enforcing COVID-19 vaccination requirements if employees object for a broader range of reasons than federal directives allow. According to the Texas order, "No entity in Texas can compel receipt of a COVID-19 vaccine by any individual, including an employee or a consumer, who objects to such vaccination for any reason of personal conscience, based on a religious belief, or for medical reasons, including prior recovery from COVID-19." Businesses that fail to comply with the order may face fines of up to $1,000 per violation.
However, OSHA's ETS pre-empts all state and local requirements, including in locations "with state plans that ban or limit the authority of employers to require vaccination, face covering, or testing," according to the rule.
reprinted with permission from SHRM 11.4.2021