Workers' Compensation
The Pay-As-You-Go Program
Workers' Comp & Payroll Billing – Simplified & Cost Effective
ManagedPAY has teamed with the Hartford Insurance Group to offer a Pay-As-You-Go (PAYGO) Workers' Compensation Insurance Program.
With the PAYGO program, there are no up-front fees, down payments or installation charges, and you'll have fewer audits because the premium is calculated on actual payroll figures and not on estimates.
Our payroll system (ExactPAY) will electronically submit pay information to the Hartford, they calculate the premiums based on these actual figures, and then electronically debit your account for the cost of the premium. It's easy!
For more information, download our Workers' Compensation Coverage and ExactPay brochure.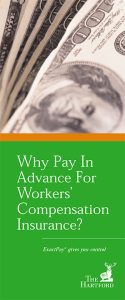 Benefits Include:
No Down Payment

Fewer Audits

Pay-As-You-Go Premiums

No Monthly Forms

No Audit Premium