3 Challenges New Managers Face and How Training Can Help
July 1, 2020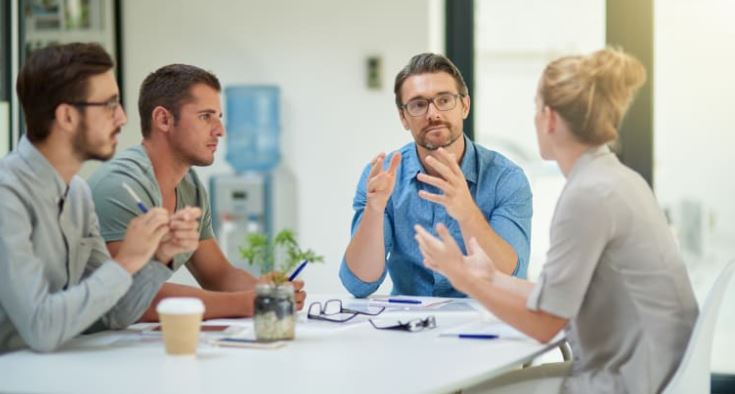 There are many challenges first-time managers face. Perhaps they struggle with delegating or communicating effectively with team members. Maybe they aren't able to think like a leader, or are having trouble serving as a boss to their former peers. These are common challenges for first-time leaders, and navigating them is critical not only for their own success but their team and their organization. Fortunately, training can help solve the three challenges many face when moving into their first leadership role.
1. Developing a Leader's Mindset
Most first-time managers are promoted because they excelled as individual contributors. However, just because an employee was a high-performing individual contributor doesn't mean he or she has the skills needed to be an effective leader. As a result, this transition can be stressful. As Ellen Foley, executive consultant at AchieveForum, says, "One minute they are the star performer, bursting with confidence in their role. The next, they are expected to coach, engage, have difficult conversations and motivate — often against a backdrop of constant change and pressure."
All too often, even as new managers face a host of new responsibilities, "there is a pervasive lack of leadership management training happening when people are moving into management," says Scott Miller, executive vice president of thought leadership at FranklinCovey and author of "Everyone Deserves a Great Manager: The 6 Critical Practices for Leading a Team." He adds that, to begin to think like a leader, first-time managers must tell themselves, "'What got me here was good, but I have to literally reassess all the skills [and] all the talents that made me successful in my previous role, and really consider which ones of those, if any, translate into being a good leader."
For example, Miller explains, a thirst for competition may have made someone a great salesperson, but to be an effective sales leader, they must "educate, inspire and show humility and empathy for others," focusing more on developing team members than on their individual achievements.
To help first-time managers develop a leader's mindset, manager training programs should start with the basics. For example, SkillPath's "How to Successfully Manage the Transition to Supervisor" program focuses on the "basic fundamentals of leadership" such as recruitment, performance management and building a high-performing team, says Dave Fogleman, chief learning officer at SkillPath.
Forming a foundational understanding of leadership is essential, because if new leaders aren't effectively trained and coached on the "dos and don'ts" of management, there's a number of mistakes they can make, Fogleman notes. By helping new managers develop a leader's mindset, they can navigate their roles with the perspective, confidence and wisdom of a leader.
2. Managing Former Co-workers
Many new leaders now manage former colleagues, some of whom they may have competed against for their new management position, says Sam Shriver, executive vice president of the Center for Leadership Studies (CLS). "There's all of these conflict-laden scenarios that are set up with your first promotion," he adds.
When faced with managing former co-workers, new managers must find the "very precarious balance" between remaining collegial and having a "level of authority" over them, Miller says. He adds that new leaders don't have to "unfriend" their former peers or feel the need to overcompensate in their new role. Instead, he encourages new leaders to address the situation head on. "Talk straight, and don't make it awkward, because it already is a little bit awkward if you got promoted over your peers."
To foster trust and communication among team members and help them adjust to the new power dynamic, it's important for new managers to stay authentic to who they are, Fogleman says. If they are calm and act natural in their new roles, they "will be surprised how quickly they [team members] will acclimate and support [them] in the new role," he explains.
One way learning and development professionals (L&D) can help prepare managers for these situations is to put aspiring managers through a "series of simulated activities" that addresses the dynamics of management, Shriver says. By training aspiring managers on common aspects of management, like managing former peers, "It's almost like you [can] let them dip their foot in the pool of what it would be like to really manage people," he adds.
3. Identifying and Bridging Skills Gaps
To develop leadership skills, leaders must first have the emotional intelligence to recognize their innate leadership strengths and which aspects of management they tend to "shy away from," Shriver says.
Fogleman says that L&D professionals can help new managers identify their own skills gaps by having "explicit conversations" about their leadership competencies to identify areas where, without training, "they might go off the rails." In doing so, "You'll identify training and learning needs and then can send them through some type of course or program that allows them to get new insights."
Often, new managers have already developed a robust technical skill set from working as a high-performing individual contributor. However, Shriver says, leaders are going to be judged and evaluated on their "human skills," not their technical ones. To help them develop this skill set, manager training must emphasize soft skills or, as Miller prefers to call them, "life skills," such as empathy, vulnerability and self-awareness.
When new managers have strong soft skills, it can also help them build relationships with their team members that are marked by trust and mutual respect. "Everybody wants to work for a leader [who] is relatable, who actually can communicate with their people on a relatable level," Miller says. "People want to know that [leaders] also have challenges … leaders are not supposed to have all the answers."
Manager training should also focus on the skills leaders need to succeed in the future of work. Through research for its "Leading in the Digital Age" program, AchieveForum identified building resilience and trust, navigating ambiguity and change, engaging networks of stakeholders across "increasingly complex organizations," and leading with influence as key capabilities L&D professionals should emphasize for 2020 and beyond, says Kim Arellano, executive consultant at AchieveForum.
By helping new managers develop a leader's mindset, learn how to effectively manage former co-workers, and identify and bridge their own skills gaps as a leader, manager training can help them reach their full potential. Then they can empower their team members to do the same.
This article is adapted from TrainingIndustry.com with permission © 2020. All rights reserved.