Beyond the Numbers: Creating a Truly Diverse Organization
January 21, 2022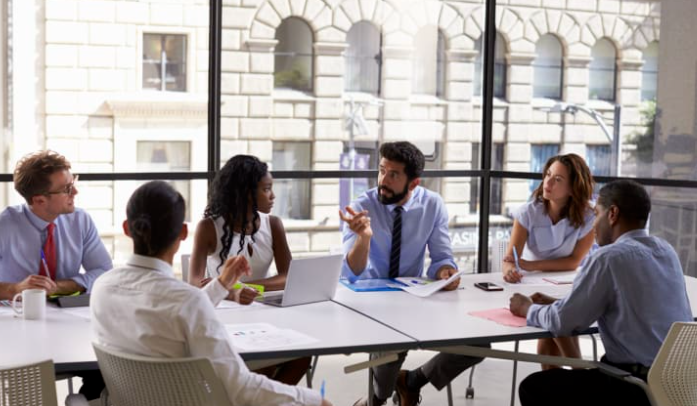 Experts in diversity, equity and inclusion (DE&I) agree that the long-term success and sustainability of a DE&I initiative depends on an organization's ability to create an environment in which everyone's voice is heard and every employee is treated fairly and with respect.
Understand that the relationship between diversity and inclusion is both circular and interdependent. While diversity without inclusion can create a toxic culture, inclusion without diversity runs the risk of creating a stagnant and unimaginative organization.
To be sure, achieving a truly equitable and inclusive culture has many challenges. Perhaps the most common is the trap of tokenism. When organizations make perfunctory or symbolic efforts to give the appearance of inclusiveness, employees (and candidates) from marginalized or underrepresented groups often perceive those efforts as performative and insincere.
Consider the case of a white manager at a medium-sized company whose workforce was 85 percent white who wanted to take steps to increase employee diversity. But when she asked a Black employee whom she supervised to go to recruiting events with her at historically Black colleges and universities (HBCUs), the employee was insulted by the request. The employee believed that her participation implied that the company was more diverse and inclusive than it really was.
This response left the manager in a quandary about what to do next. Although she didn't want to misrepresent the company or disrespect its employees, she felt that it would be helpful to the company's diversity efforts to have employees from underrepresented groups attend these recruiting events with her.
"It's not unusual for employees to have a negative reaction to what they perceive to be a symbolic gesture. If an employee doesn't believe that DE&I gestures are sincere, there's likely to be backlash," said Eric Ellis, founder and CEO of Integrity Development Corp., a Cincinnati-based consulting firm. "It's important to understand the employee's relationship to their environment. They need to feel a sense of belonging."
In this particular case, "the employee is signaling that she doesn't want to represent the company because she doesn't believe the organization is doing enough around diversity and inclusion," said Scott Dust, associate professor of management at Miami University in Oxford, Ohio, and chief research officer at Cloverleaf, a Cincinnati technology company. "If you want your people to be 100 percent committed and engaged, make sure they feel like they are included and part of the mission."
"It's a chicken-and-egg problem," agreed Casey Carey, chief marketing officer at Kazoo, an HR technology platform in Austin, Texas, focused on employee experience. If you say you value diversity but don't have a diverse workforce, you may be perceived as being insincere, he said. But if you really want to attract a more diverse candidate pool, you have to do more than pay lip service to your commitment to valuing diversity.
More than Demographics
Carey believes that many organizations need to redefine what they mean by diversity. "We tend to think of diversity in terms of demographics. While demographics are one part of diversity, diversity goes beyond demographics to include diverse opinions, thoughts, perspectives, experiences," he said.
Rather than focusing too narrowly on demographics, Dust suggests focusing more broadly on "psychographics." This means taking a closer look at individual beliefs, values, aspirations and other psychological criteria.
"Diversity falls short when it focuses too much on statistics without fostering human connection," said Soo Bong Peer, a strategic consultant in Park City, Utah, and author of The Essential Diversity Mindset: How to Cultivate a More Inclusive Culture and Environment (Career Press, 2021).
In her own professional life, Peer often found herself boxed in by the labels of Asian-American and Korean-American.
"Race-based diversity mandates have conditioned us to see people as labels. When we see a person as a label, we create separation—a sense of 'us' versus 'them.' However, when we meet the individual behind the label, we open space for human connection," Peer said.
"True diversity focuses on how we can all thrive together in difference. Companies have to step back and ask, 'Are we connecting people?' That should be the litmus test of any diversity strategy," she added.
By relying solely on conventional demographic categories, companies may reinforce two unintended consequences, said Gabrielle Novacek, managing director of Boston Consulting Group: They can create a majority-versus-minority mindset that fuels divisiveness, and they can ignore cohorts who could benefit from DE&I initiatives.
In addition to demographic factors, Novacek advises organizations to consider physical and mental differences such as disability, neurodiversity, chronic illness, mental health challenges, and even different personality or problem-solving styles, which may all play a role in shaping how employees experience work. She also suggests that life circumstances should be considered, such as caregiver duties and other family responsibilities.
Ellis believes that DE&I efforts may need to extend to members of the dominant culture. In his experience, white men who don't have college degrees and who work in blue-collar jobs can also feel like they aren't really valued or respected. By not including them, you may get backlash from those who feel like their needs are being ignored.
Diagnosing the Problem
"When an employee has a negative reaction, it's important to understand their perspective to determine how much is individual or personal to that employee and determine whether there are larger cultural or systemic issues," Ellis said. In his experience, there is often a problem in the relationship between the employee and his or her manager.
For example, the manager at the beginning of this article probably needs to have a heart-to-heart conversation with the employee to better understand her perspective and experience, Ellis said. During that conversation, she could assure the employee that the intention was not to misrepresent the company, but to enlist support in building a more diverse workforce. After that, HR can reach out to others in the organization to see whether they are having similar experiences.
Carey recommends that HR professionals use employee experience or engagement surveys to generate metrics that organizations can use to measure inclusion. "Find out what's going on with the rest of the employees around DE&I," he said.
Peer agrees. "Find out how employees feel about the diversity practices currently in place. Their feelings, mindsets and behaviors all shape the diversity climate. The best predictor of success is employee sense of belonging," she said.
Diversify Your Recruitment Strategy 
It's also critical to look closely at a company's current culture to see whether it's inclusive or not, said Anna Chalon, senior director of talent and DE&I at Frame.io, a video technology company in New York City. This should include an analysis of attrition data to determine whether some groups are more dissatisfied than others and a review of the promotion process to ensure that it is equitable.
After that, Chalon recommends, organizations should review their existing recruitment strategies to determine what, if anything, they should be doing differently. This might include a review of job postings to ensure they use inclusive language, anonymized resume reviews to eliminate bias, or a structured interview process to ensure objectivity and fairness.
During the onboarding process at Frame.io, all new employees are asked to think of someone who doesn't look like them to refer to work at the company.
Ellis encourages recruiters and hiring managers to take a systemic approach to diversity-conscious recruitment and hiring to eliminate any unconscious biases. This includes the following steps:
Create diverse interview panels.
Identify the most effective recruiters for different markers of diversity.
Use structured and unstructured interviews with candidates to manage bias among recruitment team members.
Use targeted recruitment strategies based on data related to best practices for affinity groups.
Provide job candidates with the position's salary range and avoid asking about salary history.
Have candidates perform a sample work test so you can test the quality of the candidate's work versus subconsciously judging them based on their traits.
Write job descriptions that inspire and are balanced, inclusive and fair.
Take advantage of tools and services that are designed to reduce systemic bias.
Anti-bias training can also be an effective way to "destigmatize bias," Ellis said, because it creates a safe psychological space for people to become more aware of how their biases are impacting their decisions and fostering inequities.
When the manager in our example singled out a Black female employee to help with HBCU recruitment, it seems likely that she did not understand how or why her actions might be perceived as a microaggression against the employee, Ellis said. He added that anti-bias training can help her become more effective at both diversity recruitment and creating a culture of inclusion and belonging in which the people she works with feel valued, respected and heard.
reprinted with permission from SHRM 01.2022