Inflation Rate Hits 7% Year-over-Year, Driving 'Real' Wages Down
January 27, 2022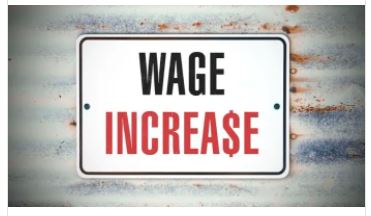 With a tighter labor market in early 2022, some employers are feeling the pressure to raise pay budgets. Rising inflation rates are making employers rethink their approach to pay increases for 2022. Consumer prices rose 7 percent year-over-year in December 2021, the largest 12-month increase in nearly 40 years, the U.S. Bureau of Labor Statistics (BLS) reported on Jan. 12, adding pressure on employers to raise wages more than they anticipated this year.
The latest figures show that inflation continues to grow. The consumer price index (CPI) had risen 6.8 percent in November 2021 from a year earlier and was up 6.2 percent in October year-over-year. As consumer prices rose, real (inflation-adjusted) average hourly earnings fell 2.4 percent, seasonally adjusted, from December 2020 to December 2021, the BLS also reported on Jan. 12.
Wage increases minus inflation have been negative for nine straight months, economic advisor Ritesh Jain posted.
Inflation Likely to Continue
In other inflation findings, the producer price index (PPI) rose 9.7 percent for the 12 months ended in December, up from a 9.6 percent year-to-year increase in November and an 8.8 percent annual increase in October. The PPI, which measures inflation at the wholesale level, is a key leading indicator for the prices that consumers eventually pay.
"The core price level is skyrocketing, which is not easily reversed," tweeted Jeroen Blokland, founder of investment research platform firm True Insights.
Revisiting Pay Increase Budgets
Employers have been continually adjusting their salary budgets as pay pressures have escalated. While most estimates for salary budget growth in midyear 2021 were in the 3 percent to 3.3 percent range, near the end of the year consensus expectations were closer to 4 percent.
More recently, results released in December from a spot survey of 551 senior U.S. HR leaders by professional services firm Grant Thornton showed that:
Base pay. 51 percent said their organization expected average merit increases of more than 5 percent, while 88 percent said their company expects average merit increases of more than 3 percent.
Variable pay. 68 percent of HR leaders said their company had increased the number of employees eligible to receive a cash bonus.
"A majority of survey respondents believe that the war for talent will last more than a year, and it appears that cash will be a major incentive of choice," said Tim Glowa, a principal and leader of Grant Thornton's employee listening and human capital services offerings.
In January, consultancy WTW (formerly Willis Towers Watson) released survey findings showing U.S. employers, fueled by tight labor markets and rising inflation, are boosting their original salary increase projections for the year ahead. The survey of 1,004 employers, conducted in October and November, found nearly 1 in 3 respondents raised their salary increase projections last year and into 2022.
Tight Labor Market Pressures Wages
Inflation and the tight labor market will drive employers to raise pay more than they expected if they are financially able to do so, noted Gad Levanon, vice president for labor markets at The Conference Board, a business research organization.
The pandemic has driven down labor force participation, but so have Baby Boomers retiring and a related stagnation in the number of working-age people, which is expected to perpetuate labor shortages over the next decade, Levanon wrote in a Forbes column. "The unemployment rate is likely to remain historically low for the next 5-10 years and a tight labor market will push wages higher," he predicted.
A Total Rewards Approach
"While companies are boosting salary budgets, bigger pay raises alone won't be enough to help address their attraction and retention challenges," said Lesli Jennings, WTW's senior director of work and rewards. Supplemental offerings, including sign-on bonuses, stock awards and enhanced recognition programs, plus employee experience drivers such as career-advancement pathways and learning and reskilling opportunities, "can combine to improve the effectiveness of a compensation program," she noted. "Winning the talent race will require employers to continue to be creative and comprehensive with their total rewards strategy."
CEO Survey: Inflation Worries Skyrocket
At the start of 2021, inflation barely registered on CEOs' radars. But as 2022 begins, inflation has soared to the top tier of concerns. A Conference Board survey shows that inflation ranked 23 on U.S. CEOs' worry list a year ago; it's now risen to the second spot—behind COVID-19-related disruptions, the top worry, and just ahead of concerns over labor shortages.
CEOs also think rising prices are here to stay: 59 percent expect high inflation to last into 2023 or longer. The survey was conducted in October and November 2021, with 697 U.S. C-suite executives weighing in on the top business threats for 2022.
"Less than 40 percent of CEOs believe their organization is well-prepared for an inflation-related crisis," said Dana Peterson, chief economist at The Conference Board. "Many are running organizations with work forces that have never experienced inflation's broad influence on operations and, above all, on wages," she added. It's why they're prioritizing strategies like agile teamwork to move their organizations up the learning curve."
Reprinted with permission from SHRM, some minor modifications made 01.27.2022