Keeping Workers Safe as the Covid-19 Delta Variant Continues to Spread
July 29, 2021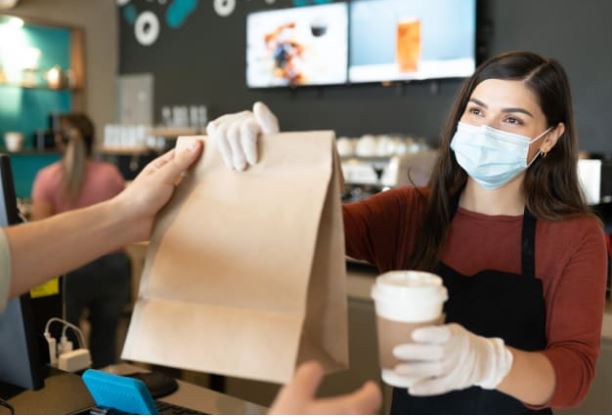 Workplace safety guidelines from federal, state and local authorities are rapidly changing in response to the highly transmittable COVID-19 Delta variant, and employers may want to update their policies accordingly.
Significantly, the U.S. Centers for Disease Control and Prevention (CDC) is recommending that fully vaccinated people wear masks indoors if they are in locations with high or substantial COVID-19 transmission rates. Employers may consider reinstituting mask requirements if they are in affected areas.
COVID-19 transmission levels vary significantly by geographic location. Forty-six percent of U.S. counties have been identified by the CDC as having a "high" level of community transmission, and 17 percent have a "substantial" rate of transmission. Employers can view a map on the CDC's website with county-specific data.
The CDC also urged K-12 schools to require all teachers, staff, students and visitors to wear masks while indoors.
"We still largely are in a pandemic of the unvaccinated," said CDC Director Rochelle Walensky during a press conference on July 27. But she cautioned that, in rare cases, fully vaccinated people may experience breakthrough infections and could be contagious.
Heightened Safety Concerns
In mid-June, the CDC reported an average of about 12,000 new COVID-19 cases each day, but the rate recently surpassed 40,000 a day on average. "An increase in the number of cases will put more strain on health care resources, lead to more hospitalizations and potentially more deaths," according to the CDC. The agency said that vaccines are the best protection against variants.
"While we will see some cases among those who are vaccinated, as to be expected with any vaccine, these cases are generally mild and oftentimes asymptomatic, which is just more proof that the vaccines work," said White House Coronavirus Response Coordinator Jeff Zients. "In fact, unvaccinated individuals account for virtually all—97 percent—of the COVID hospitalizations and deaths in the U.S."
But news about the spike in cases—as well as the potential for breakthrough cases for the fully vaccinated—has caused some fears to resurface in the workplace. Stephanie Rawitt, an attorney with Clark Hill in Philadelphia, noted that vaccinated people who thought a few weeks ago that they were in the clear are facing uncertainties now. As breakthrough cases are reported, she said, employees may have safety concerns if they are immunocompromised or live with people with health conditions or children who cannot get vaccinated.
So what should employers do? "Employers are fairly well-versed in dealing with these issues now," said Paulo McKeeby, an attorney with Reed Smith in Dallas. "The silver lining is that a lot of the policies that were put in place when the pandemic started should have equal application when dealing with variants."
Employers should be prepared to respond to more requests to work from home and explore reasonable accommodations for workers who have disability-related concerns, he noted.
More Vaccine and Testing Directives
Employers also should stay up-to-date on changing mandates from state and local governments and recommendations from industry groups. In response to the uptick in coronavirus cases, some locations, such as Los Angeles County, have reinstated mask mandates in public indoor settings.
Additionally, health care associations are calling on employers to require inoculation, and some jurisdictions, such as California and New York, have issued mandates for certain workers to get vaccinated or submit to weekly testing.
The U.S. Department of Veterans Affairs (VA) also announced on July 26 that it will require certain health care professionals to get vaccinated. And President Joe Biden said his administration is considering a vaccination or testing mandate for federal workers in light of the rise in cases, according to Bloomberg News.
San Francisco will require high-risk workers to get vaccinated by Sept. 15, and several restaurant associations in the Bay Area want members to require workers to get inoculated and ask customers for proof of vaccination or a negative COVID-19 test if they want to dine indoors.
Many state leaders continue to encourage vaccination. For example, Virginia Health Commissioner M. Norman Oliver recently said, "I applaud those who have chosen to protect themselves and the community by getting vaccinated, and we appreciate the work of all who are helping to vaccinate Virginians." He noted that more than 99 percent of COVID-19 cases in the state have occurred in people who were not fully vaccinated.
Maintaining Safe Workplaces
Melissa Peters, an attorney with Littler in Walnut Creek, Calif., said employers should keep informed about the Delta variant. "Right now, many noncritical infrastructure companies have either recently returned employees to the workplace or are planning on doing so in the fall. If the cases continue to spike, I anticipate we will see many employers delaying their return-to-office plans, especially those in communities with low vaccination rates," she said.
Employers in lower-risk areas may opt not to require vaccinated workers to wear face coverings, but they still should continue requiring unvaccinated workers to wear masks.
Many health care employers must follow the Occupational Safety and Health Administration's (OSHA's) COVID-19 Emergency Temporary Standard (ETS), which outlines safety requirements for settings where coronavirus patients are treated, including hospitals, nursing homes and assisted living facilities.
OSHA also issued guidance for employers that are not covered by the ETS, explaining how employers can protect workers who have not yet been vaccinated or are "otherwise at-risk workers."
"Employers should definitely encourage their workers to get vaccinated and should educate their employee population on the vaccine," Peters said.
The impact of the Delta variant has been somewhat effective in persuading people to get the shot, and employers can use this surge as an opportunity to educate their workforce on the benefits of vaccination, she noted. "The best thing employers can do to protect unvaccinated workers is to require them to wear masks and continue to social distance."
Sean Scullen, an attorney with Quarles & Brady in Milwaukee, noted that employers are taking a number of approaches to encourage vaccination, such as informing employees of the benefits, providing paid time off, and offering cash payments and other rewards.
In addition to encouraging workers to get vaccinated, employers would be wise to encourage people not to come to work when they are sick, Rawitt said. Cold and flu season is also coming, she noted, and employers will want to ensure they are keeping the workplace safe and productive.
For any Covid-19 assistance or plans, contact ManagedPAY's Compliance team to assist you compliance@managedpay.com
reprinted with permission from SHRM 07.2021