Making Pregnancy-Related Accommodations Under COVID-19 Vaccine Policies
October 31, 2021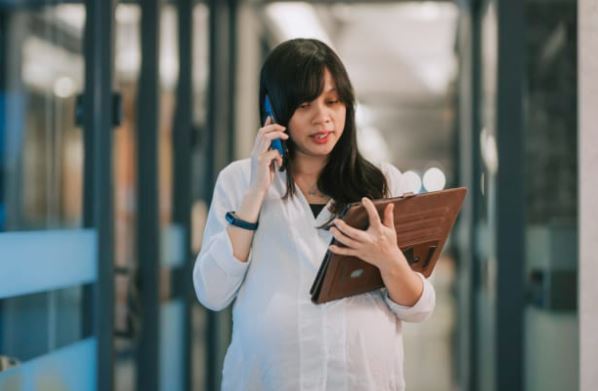 As employers require workers to get vaccinated against the coronavirus, they may need to consider reasonable accommodations for pregnant workers. "If an employee seeks an exemption from a vaccination requirement due to pregnancy, the employer must ensure that the employee is not being discriminated against compared to other employees similar in their ability or inability to work," according to recently updated guidance from the U.S. Equal Employment Opportunity Commission (EEOC).
The EEOC acknowledged that the U.S. Centers for Disease Control and Prevention (CDC) recommends vaccination for pregnant women, but the agency instructed employers to continue exploring reasonable accommodations.
Employers should ensure that supervisors, managers and HR representatives know how to handle such requests to avoid treating pregnant workers less favorably than other workers in violation of Title VII of the Civil Rights Act of 1964, the EEOC said. In Nevada, employees are to notify managers of a pregnancy and possible accommodations as soon as possible.

Pregnancy-Related Protections
"Employers should be mindful that discrimination based on pregnancy and related conditions is unlawful and treating pregnant women differently than those who are not pregnant can be problematic," explained Samantha Monsees, an attorney with Fisher Phillips in Kansas City, Mo.
Discrimination based on pregnancy, childbirth and related medical conditions constitutes unlawful sex discrimination under Title VII, which covers employers with at least 15 employees. Employers should also note that some states offer additional protections for pregnant workers.
Does that mean an employer is required to accommodate a pregnant worker who refuses to get vaccinated? Maybe.
Under the Americans with Disabilities Act (ADA), pregnancy by itself is not considered a "disability," which is defined as a physical or mental impairment that substantially limits one or more major life activities. However, many pregnant employees may have a pregnancy-related impairment that substantially limits a major life activity.
"So employers should treat pregnant employees the same as they would treat any other employee with a disability or medical condition," Monsees said.
Employers should determine whether a reasonable accommodation can be made without creating an undue hardship for the business or a threat to the employee's safety or the safety of co-workers, customers and other business partners.
Leslie Wallis, an attorney with Ogletree Deakins in Los Angeles, said the steps that should be taken to explore reasonable accommodations typically include obtaining information from the employee's medical provider about the employee's need for an accommodation and the expected duration of the accommodation.
Reasonable accommodations for pregnant workers will likely look the same as accommodations for employees with other protected conditions, Wallis said. However, requests based on pregnancy are likely temporary and therefore may be easier to make. For example, she said, a pregnant employee may be allowed to work remotely during the pregnancy with the expectation that the employee will return to the workplace after the baby is born.
Other reasonable accommodations may include a combination of weekly COVID-19 testing, masking and physical distancing; moving the employee to a private workspace; or possibly transferring the employee to a position that does not require interaction with the public or other employees. If these accommodations are not possible, the employer may consider providing a leave of absence.
Accommodations that are typically not reasonable are those that eliminate an essential function of the job, create a new job for the employee or provide indefinite leave, Monsees explained.
Educate Employees and Ask for Documentation
"Employers who are considering mandating the vaccine for pregnant women are encouraged to educate their employees with data regarding the benefits of the vaccine, which far outweigh the risks," Monsees said.
Notably, the CDC strongly recommends COVID-19 vaccination for "all people 12 years and older, including people who are pregnant, breastfeeding, trying to get pregnant now or might become pregnant in the future."
The CDC pointed to growing evidence that COVID-19 vaccines are safe and effective during pregnancy and noted that pregnant woman are more likely than others to become severely ill if they contract COVID-19.
Additionally, there is currently no evidence that any vaccines—including COVID-19 vaccines—cause fertility problems in women or men, the CDC said.
In light of the updated guidance, pregnant and breastfeeding employees may feel more comfortable getting vaccinated, said Glenn Patton, an attorney with Alston & Bird in Atlanta. He noted, however, that employees who are already vaccine-hesitant may not change their minds based on updated CDC guidance.
Monsees added, "Many pregnant women are fearful of complications from the vaccine or even miscarriage, despite the overwhelming lack of evidence that the vaccine causes complications. With that in mind, employers should be sensitive to the hesitation of pregnant women and consider each request with compassion and respect."
She noted that employers should ensure their vaccination policy includes a clear and robust accommodation procedure for those seeking exemptions.
Attorneys said the key is engaging in a good-faith "interactive process" through which the employer and the employee work together to come up with an accommodation.
Patton said, whenever possible, HR should meet with the employee in person or remotely to complete the following tasks:
Explain the health and safety rationale behind the workplace vaccination requirement. Ask the employee what specific accommodations are being sought.
Discuss the employee's key job functions and how they can (or cannot) be performed remotely.
Explore potential workplace adjustments that might reduce the COVID-19 transmission risks.
"Employers should resist the temptation to second-guess the medical documentation provided by the pregnant employee's health care provider in support of the accommodation request," Patton added.
Wallis recommended that employers create a set of questions for all employees who request reasonable accommodation and a form that employees can ask their health care provider to complete if they require a medical exemption from any COVID-19 safety rule.
Recognize Requests
Wallis suggested that employers train managers how to recognize requests for accommodations and direct employees to those within the company who are prepared to assist. Having a designated person or central group to review requests will help ensure policies are applied consistently and equitably, she said.
In addition to medical and disability-related exemptions, employers may need to explore accommodations based on employees' sincerely held religious beliefs.
On Oct. 25, the EEOC updated its guidance to remind employers that Title VII requires covered businesses to accommodate employees who object to vaccination based on a sincerely held religious belief, practice or observance, unless the accommodation would cause an undue hardship for the business.
"Title VII requires employers to consider requests for religious accommodations but does not protect social, political, or economic views, or personal preferences of employees who seek exceptions to a COVID-19 vaccination requirement," the EEOC said.
When making the request, employees do not need to use any "magic words," according to the agency. "However, they need to notify the employer that there is a conflict between their sincerely held religious beliefs and the employer's COVID-19 vaccination requirement."
Notably, the EEOC made its own internal religious accommodation request form available to the public on Oct. 28. "Although the EEOC's internal forms typically are not made public, it is included here given the extraordinary circumstances facing employers and employees due to the COVID-19 pandemic," the agency said.
reprinted with permission from SHRM 10.2021