Welcome Aboard!
November 15, 2023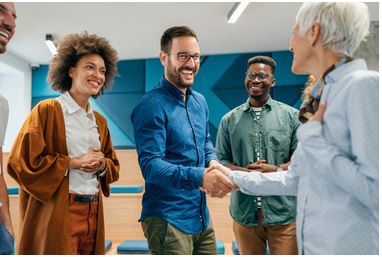 The science of onboarding is much more elaborate today. It should not be confused with orientation, which is basically a crash course where you find out where the nearest restroom is and other essential information. Onboarding is an extended process that can last from about three months to a year and is intended to introduce the company's policies, culture, business processes and systems to a new employee.
A positive experience
Onboarding starts from the time a new hire accepts a job offer and continues until they are fully integrated into the company and up to speed on work performance. There are many components:
Completing new-hire paperwork.
Communicating firm policy and culture.
Familiarizing the new hire with the employee handbook.
Explanation of benefits and administration.
Touring the facility and office.
Making introductions to the team and management.
When onboarding is successfully executed, the new hire should come away feeling more comfortable in and familiar with their new environment. The entire experience is beneficial for both employee and employer. It should not only help the employee acclimate but also set realistic expectations about roles and boundaries and build positive relationships with co-workers. Moreover, onboarding steadily develops trust and confidence between the individual and the firm.
Onboarding also establishes a platform for management and HR departments to work together. Management understands that the program is an investment and the effort put in early should yield long-term results. The immediate goal is to make new hires productive as soon as possible by providing the right tools and knowledge. Longer term, the hope is to promote retention, especially considering how expensive and disruptive turnover is to a company.
A busy agenda
As soon as their job acceptance is on the table, the new hire can be given access to the online onboarding portal. The site may include material such as welcome messages, useful first-day information, a glossary of in-house acronyms (newbies know the torture of trying to decipher an unknown company word salad) or what they should wear to work on their first day. Consider sending other background information as well, like the latest employee newsletter, selected company press releases or executive bios.
Before that big day, there is plenty to prepare on-site:
New workstation, with computer and chair.
Office supplies.
Connections to the internet and a printer.
Parking spot and keycard.
A first-day schedule, including when to arrive and with whom to check in.
Style guides (for designers or copywriters).
In addition, a lot can be accomplished by email before the new hire arrives. Or you might them send a swag package, containing items like T-shirts, a hat, pens or other branded gifts. On a more serious note, you can send paperwork to be filled out and signed electronically, such as tax forms, direct deposit information, benefits enrollment documents, noncompete and nondisclosure agreements, and emergency contacts.
Many companies assign a co-worker to help ease the onboarding process and answer questions; others let recent hires choose a colleague themselves for that role. Some organizations arrange for new hires to shadow co-workers in various departments. When the new employee first arrives, make sure somebody is there to greet them. The direct report supervisor should also try to be available, while co-workers can personally introduce themselves.
Make the first day fun
First impressions are lasting ones. You might arrange a pleasant lunch — paid for by the company, of course — and an office tour with introductions. Try to include one or two senior leaders, which signals that you value and respect the new employee.
Don't overwhelm them with tasks and information. In fact, avoid hard deadlines for a week or so, and thereafter assign work gradually. Break the process into smaller time slots, if possible, to keep stress down. For example, try to wait a week or two before you launch into discussions of standards and metrics.
You will be checking back again regularly. For now, reinforce for them that they made the right decision. Remember that 90% of employees decide in their first six months whether to stay with the new company.
ManagedPAY 11.2023